Make Your Vacation A Memorable Experience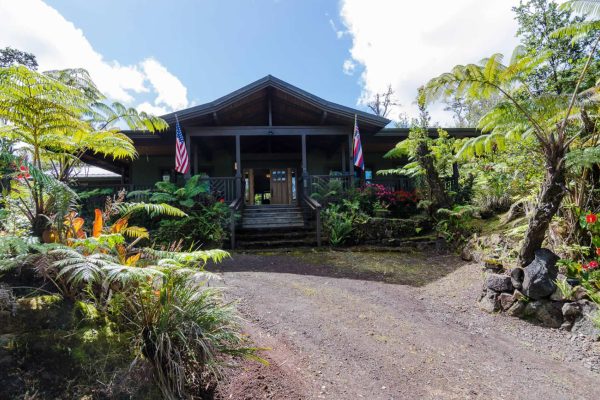 The lodge is close to the Hawaii Volcanoes National Park main entrance and Kilauea summit. View amazing lava flows. Hike through Thurston Lava Tube and the many nature trails. A short drive away is Kalapana where lava flows recently entered the sea. We are close to beaches, snorkeling, diving on the Hawaiian coast. Nearby is Volcano Village, a friendly community with many art studios, some restaurants/delis, gift shops and a General Store.
On your private lanai you can enjoy the sounds of the forest, relax and disconnect and enjoy a respite from noise, pollution and the hurry of everyday life. We want our home to feel like home with a touch of relaxation and serenity. We have created a peaceful place for all to enjoy. While you walk the grounds you will find so many things to discover from ferns that are over 100 years old to many other native plants. We also have many fruit trees on the property. While the forest is ever changing we have learned to work with it. We are always trying to improve the experience of the land.
The lodge is like a breath of fresh air amidst the beautiful forest of Ohias and Hapu'u tree ferns; a quiet place to relax and unwind, while being located close to the various adventures in the area.The driveway is made and kept up with local cinder. As you walk or drive along the driveway we have created many lava walls and planter areas. We love the land and want to keep it as natural as possible. You will notice that the forest has a life of its own. This beautiful home provides all the elements to make your vacation on the Big Island a memorable experience.
Things To Do in the Volcano Area
Hawaii's Volcano Rainforest Estate and surrounding Volcano area are destinations in which to relax as well as be active, a place to be awed and slow down, to get in touch with oneself beyond the often busy pace of daily life. Surreal and serene, it is empowering, enduring and ever-changing. The harmony of man and nature attracts aware and sensitive individuals whose values show concern for the earth and its remaining places of great natural beauty.
Volcano's distinctive mix of artists, scientists, and entrepreneurs blends almost imperceptibly into the native forest landscape. Many offer exciting customized tours including photography, bird-watching, local golfing, cave spelunking, desert, old lava flows and forest hikes.
"Experience the Heartbeat of a Volcanic Landscape"
"Volcanoes are monuments to Earth's origin, evidence that its primordial forces are still at work. During a volcanic eruption, we are reminded that our planet is an ever-changing environment whose basic processes are beyond human control. As much as we have altered the face of the Earth to suit our needs, we can only stand in awe before the power of an eruption." NPS
Volcano Area Tour Info
hawaiiphotoretreat.com (photography)
jackjeffreyphoto.com (bird watching)
kazumuracave.com (spelunking)
hawaii-forest.com (hiking)
bikevolcano.com (cycling)
kalapanaculturaltours.com
lavalandhawaii.com
bluehawaiian.com (helicopter tours)
akatsukaorchid.com (orchard nursery)
volcanogolfshop.com (golfing)
volcanoartcenter.org (fine arts & crafts)
Friends of Hawaii Volcanoes National Park
Connecting People with the Park through education, volunteerism, and philanthropy – www.fhvnp.org
Favorite Sites in the National Park
Volcano Art Center Gallery "Historic Volcano House"
Steam Vents – Overlook
Kilauea Iki Crater Overlook
Kilauea Iki Crater Trail
Thurston Lava Tube
Visitor's Center
Chain of Craters Road
Nearby Activities
Swimming
Fishing
Golf
Hiking
Bird Watching
Shopping
Sailing
Horseback Riding
Kayaking
Wildlife Viewing
Wind-Surfing
Kiteboarding
Scuba Diving
Snorkeling
Ecotourism
Winery Tours
Zoo
Rafting
Whale Watching
Rock Climbing
Bicycling
Restaurants
Big Island Volcano Village Dining
Enjoy a selection of charming restaurants and quaint cafes in Volcano Village, five minutes from Volcano Rainforest Estate. Call restaurants for days and hours of operation and to make reservations in advance.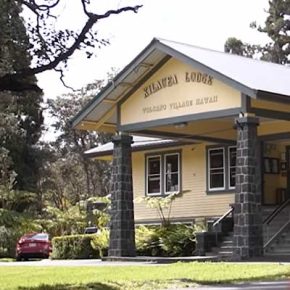 Kilauea Lodge & Restaurant
Features Continental cuisine with a touch of local flavors. Specialties include European favorites and fresh fish from Big Island Hawaii waters. Dine amidst the high redwood beamed ceiling, original art collection inspired by the volcanic landscape and Hawaiian culture, and comforting historic Fireplace of Friendship.
www.kilauealodge.com – (808) 967-7366
Café Ono
Café Ono, a destination for the senses, is a vibrant, vegetarian luncheon experience/art gallery with tasty food and artistic presentation. Features a selection of hearty soups, fresh organic salads, savory sandwiches, Volcano Big Island coffee, tea and gourmet desserts.
www.cafeono.net – (808) 985-8979
Thai Thai
An authentic Thai restaurant, whose owner is from Thailand. Menu features spicy curries and wide selection of Thai dishes freshly prepared with a full symphony of color, aroma, texture, flavor and friendly service.
www.lavalodge.com – (808) 967-7969
ʻŌhelo Café
New Volcano Restaurant – "A real contender for "best eats" in Volcano Village. Warm intimate bistro restaurant, entrees and gourmet wood fired pizza, open for lunch (11:30 a.m. – 2:00 p.m.) and dinner (5:30 pm – 9:00 p.m.) with an open view of the kitchen and wood fired pizza oven. Decor is modern and comfortable with an outdoor patio for sunny days. The staff is friendly, energized & fun!
www.ohelocafe.com – (808) 339-7865
Sunday Volcano Village Farmers Market
Wake up early and catch the Big Island Volcano Farmers Market fresh local produce along with savory breakfast pancakes, basil tomato eggs sandwich specials, and hot cup of chai or steaming hot Thai soup. A great place for an authentic experience of local the Volcano community.
Dining in Big Island Historic Hilo Town
Half hour drive from Volcano Rainforest Estate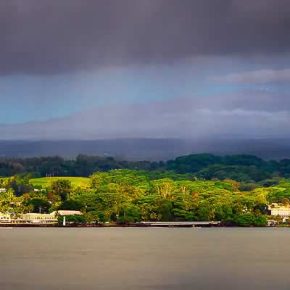 Hilo Bay Café
Local, organic ingredients, classical dishes reinvented, adding a modern twist with artistic ambience. Daily specials, drinks, appetizers and entrees are creative, unique and artistically presented. Dine at an indoor or outdoor bistro table with view of Hilo Bay. Also offers seating at an active specialty drink bar and sushi bar… a memorable experience with friendly staff.
www.hilobaycafe.com – (808) 935-4939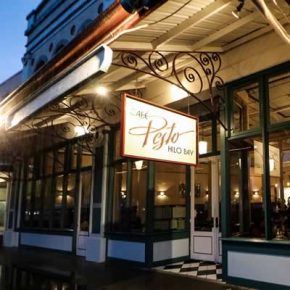 Café Pesto
Cafe Pesto with its friendly service offers a contemporary culinary adventure. Food is fresh, creatively presented and affordably priced. Enjoy a window seat with Hilo views or sit at the bar and glimpse into the culinary world of their open kitchen. Live music some evenings.
www.cafepesto.com – (808) 969 6640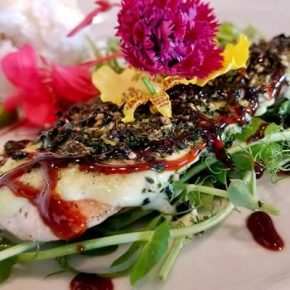 Pineapples
Open-air restaurant. Fresh cuisine with a casual gourmet flare brings a taste of The Big Island mixed with authentic Aloha Spirit. Live entertainment, bar with happy hour, lunch & dinner.
www.pineappleshilo.net – (808) 238-5324
What Our Guests are Saying
Garden of Eden with a fantastic hostess

(1/23/2019)

This house and the location were truly paradise. Everything in the house is so thoughtful and comfortable. You can tell Sharon has thought of everything and really wants her guests to feel at home. The kitchen was well stocked. We cooked many big meals including Christmas dinner. There are plenty of towels and beach towels …Read More

about Garden of Eden with a fantastic hostess

Beautiful sanctuary with amazing scenery

(8/15/2018)

If you are wanting to enjoy the sights and sounds of the Big Island without having to be around a lot of people all the time, then this is the house for you! This house was truly the sanctuary the 6 of us adults needed for our trip to Hawaii!! We enjoyed spending the cooler …Read More

about Beautiful sanctuary with amazing scenery

This is an Amazing Property!

(7/14/2018)

This was the nicest VRBO property at which I have ever stayed. The rooms were large, clean, and the entire home was built with high end construction. With that said, what said it apart was how nicely it was decorated as someone has a very keen eye for detail. Needless to say, the next time …Read More

about This is an Amazing Property!

Beautiful Home In The Rainforest

(5/19/2018)

Stayed just two nights while we visited the volcano . The house was spectacular and we spent one full day relaxing on the large porch overlooking the beautifully landscaped yard ( and feeding the two resident pheasants). Would highly recommend.